Jewellery Repairs London
Jewellery Repair London & Jewelry Restoration
Antique Jewellery Repair London since 1875
Finest Quality jewellery repairs London.
London Jewellers -

Hirschfelds

Ltd London jewellery workshop Hatton Garden London EC1 for all in house jewellery repairs and jewellery restoration Hatton garden jewellery repair.
We have been repaiiring jewellery on site for 140 years.
Please visit our In house jewellery workshop for all specialist jewelery repair and jewellery care services plus personalised service For:
Jewellery repairs London ring sizing, Ring resizing London.


Antique jewellery repair London Hatton Garden.

Antique jewelry restorers London jewellery repair specialists.

Secondhand Jewellery repair London.

Specialiist antique ring repair London restoring.

Specialist Jewellery repair London Jewelry restoration.

Ring sizing London re-sizing rings, ring alterations, ring repair,

Repairing shanks or bands that have snapped

Ring adjustment Ring polishing & Ring rhodium plating.

Wedding ring adjustment and wedding band sizing.

Repairs to gold jewellery and platinum jewellery repair.

Gold ring repair platinum and silver jewellery repairs.

Diamond ring repair and gemstone ring repair.

Diamond Repair, Diamond sourcing, diamond matching.

Earring repair, replacing posts and butterflies. Matching lost earrings.

Bracelet repair London links repairs bracelets. Siver & Gold Chain repair

Gemstone sourcing and gemstone matching.

Gemstone replacement and remounting of lost gem stones

Missing diamonds replaced. Missing gemstones replaced.

Jewellery re-modeling, jewellery re-making, jewellery alteration.

Transforming your old jewelry from outdated to contemporary jewellery.

Pearl stringing and re-stringing necklaces..

Hand made bespoke jewellery luxury rings. jewellery design service.

Antique jewellery repair and antique jewellery restoring.

Laser repair London Jewellery Laser surgery, laser soldering repair.

Laser jewellery repair and laser welding, laser ring repair and sizing.

Antique watch repair and antique watch movement replacement

.

Jewellery valuation service.

Jewelry appraisal.

No jewellery repair job is too big or too small for us. Expert workmanship.

Jewellery repairs by post and ring sizing by post. Ring repair by post.

Repairs to costume jewellery.


Réparation et transformation de bijouterie joaillerie Londres

Antiquités - Restauration et Réparation à Londres

All Jewellery Repair Estimates are free.
We repair and resize all precious metals. Platiinum, Palladium, Whiite gold, Rose Gold, Pink Gold, Yellow Gold, 22ct Gold, 18ct Gold 14ct, 9ct, 916, 750, 585, 375, Silver, Sterling Silver.
Our in house experienced goldsmiths and craftsman are experts. You can be secure in the knowledge that your jewellery will be repaired with the utmost skill at on site jewellery workshop London.


We are well recommended for all reputable jewelry repairs London

.

So allow us to be of service to you.




How much will the repair cost?


This depends on the type of jewellery and what work is required.
Bring your item to us and we will give you a FREE estimate.
After assessing the necessary jewelry repair or restoration, we will provide an estimate of the work involved & explain the process of the work concerned for the repair of your jewel. We welcome all jewellery repairs and ring repairs.
Have you had an accident with a piece of jewellery or broken a ring?
Then please call us as soon as possible.
With fast turnaround times, we can tackle jewellery repairs that other jewellers will not attempt. If you think that your jewellery cannot be fixed? - Please try us first! Because our most skilled craftsmen & goldsmiths work to the highest quality of standards.
If your ring is thin, If your ring bent and the ring breaking?
Are you tired of a thin broken ring?
Does the shank or the ring band bend easily and need renewing?
Does your Ring need refurbishment or fixing?
Breathe new life into your old jewellery, broken jewellery or damaged jewellery with our dedicated London jewellery repair service.
You and your jewellery are very important to us. So bring your jewels to us for fixing, renewal and repair. You are welcome to visit us and our Hatton Garden jewelry workshop.

Please click here to view a comprehensive list of all of our London jewellery repairs services.

Alternatively send us your jewellery repairs by post.


On line postal Form to send your jewellery to us for repair
For the finest jewellery repair, jewelry restoration & ring repair in London,
Click here for Hirschfelds jewellery restoration & jewelllery repair London
email:
jewellery-repairs@hirschfelds.co.uk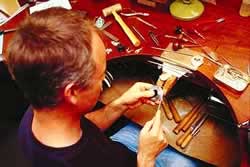 The Best London jewellery workshop for ring sizing London & ring repairs London.
Tel: 020 7405 1536 - +44 207 405 1536
In the Heart of Hatton Garden jewellery workshop London with an international reputation.
We love to restore your damaged or broken jewellery to its former glory.
Hatton Gardens jewellery repair London. Click here for a schedule of all our London jewelry repair services
The finest jewelry repair shop Hatton Garden and jewellery repair centre London.
Jewellery repair Hatton Garden London.
1875 140Years of outstanding Service 2020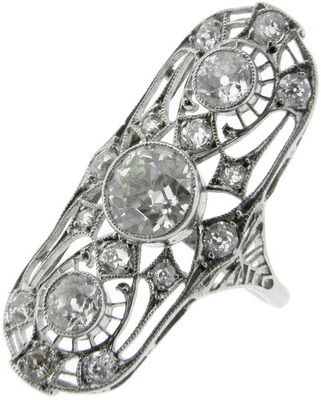 T: 020 7405 1536 (+44 207 405 1536)
Jewellery Repair London Ring Sizing London
Antique jewellery restoration London jewelry repair.
Hatton Garden Jewellery Repair Centre & Jewellery Studio London
ювелирные изделия ремонт Лондон
Réparation de bijoux à Londres
Jewellery repairs close to Bank, Barbican, Bloomsbury, Camden, Chancery Lane, Cheapside, Clerkenwell, Covent Garden, Euston, Farringdon, Grays Inn, Holborn, Islington, Kings Cross, St Pauls,Smithfield, The Strand, Soho.,
Nearby to EC1, EC2, EC3, EC4, W1, W2, WC1, WC2, N1, NW1, NW3, NW8, SW1, SE1, E1 The West End, Central London, The City of London, Fleet Street, Moorgate


Our Hatton Garden offices & specialist jewellery workshop London are open:
Monday to Friday,

Click here to View our Antique Jewellery on line